From 11.09.2017 – 13.09.2017, three members of the Deposit Insurance Fund in Kosovo, Director Ms. Violeta Arifi-Krasniqi, Board Member, Mr. Bekim Berisha and Senior Legal Officer, Ms. Shqipe Devaja, participated in the Annual Assembly of European Forum of Deposit Insurers and International Conference organized by the European Forum of Deposit Insurers (EFDI), where the host of the event was Deposit Insurance Agency of Norway.
DIFK participated the first time as member of EFDI in the Annual Assembly of European Forum of Deposit Insurers. Ms. Arifi-Krasniqi was welcomed by the Chairman of EFDI, Mr. Tierry Dissaux and other participants and was invited to address the audience on this occasion.
During the Assembly reports were presented from the Treasury and Auditor and Financial Reports were approved for 2016; budget of 2017 was adopted as well as budget of 2018 and membership fees.  A member of the EFDI Board and the deputy chairman were also elected.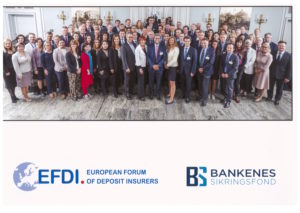 International conference addressed the topic "New solutions to the challenges raised by a changing environment". Discussions were held on the experience of beginners and advanced institutions in stress testing, the challenges faced and their solutions, and key issues faced during the implementation of stress testing programs and the lessons learned from them.
In this event a discussion was held on daily challenges with depositor compensation scheme and investor compensation scheme in a constantly changing environment.