Representatives of DIFK attended EFDI D2I Workshop on "Single Customer View (SCV): Issues, Challenges and Solutions for DGSs" organized by the De Nederlandsche Bank (Netherlands) and the Financial Services Compensation Scheme (UK)  under the umbrella of the European Forum of Deposit Insurers (EFDI).
The event took place on 13 April, 2018 at De Bazel Conference Centre in Amsterdam, Netherlands. Workshop was attended by Finance Officer Mr. Vllaznim Bytyqi and Senior IT Officer Mr. Besmir Kuqi.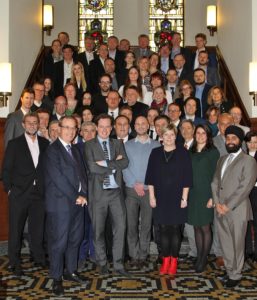 The Single Customer View (SCV) is a prerequisite for timely and effective pay-out. EU Directive on deposit guarantee schemes requires that "credit institutions mark eligible deposits in a way that allows an immediate identification of such deposits", also  the European Banking Authority (EBA) guidelines on stress testing do require that DGSs perform routine checks of SCV files.
The workshop was attended roughly 60 participants from 40 deposit insurance agencies in more than 30 countries. Key topics discussed during the workshop included the technical specifications of SCV formats, the transmission (and verification) of SCV files from bank to DGS and procedures applied by DGSs to increase the quality of SCV files. Looking beyond the traditional role of SCV files (i.e., supporting pay-out) the workshop will also focused on other applications of SCV files, for example to support resolution tools and how SCV data can be used as a management tool to support decision making on payout strategies.  During workshop participants discussed innovative approaches offered by the financial services industry and how this can enhance the functionality and the quality of the SCV. A separate panel discussion was held with third parties that provide services and products in relation to deposit insurance / IT / banking solutions.