DIFK representatives, the Managing Director Mrs. Violeta Arifi-Krasniqi and Senior Finance Officer Mr. Vllaznim Bytyqi have attended the 2018 EFDI Committee Meetings, Annual General Assembly and International Conference in Vienna, from 12-14 September 2018.
The 3-day event was organized by European Forum of Deposit Insurers (EFDI) and  hosted by the Austrian DGS "Einlagensicherung der Banken & Bankiers".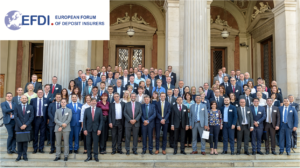 First day of the EFDI events, DIFK representatives participated in the EFDI EU Committee, Public Relations and Communication Committee, Research Committee: Risk-Based Contributions and DGS Stress-Test Working Group, Banking Union Working Group (BUWG). Second day of the EFDI Events, DIFK representatives attended the EFDI 2018 Annual General Assembly, were Secretary General presented its 1st report. As equal voting member, DIFK and its representative has approved EFDI Treasurer Report, Audit Report, 2017 Financial Accounts, Approval of 2018 and 2019 Budget and Members Fees, Approval of EFDI Grants and Gifts Policy. In third day, DIFK representatives attended EFDI 2018 Annual International Conference titled "RESOLUTION AND LIQUIDATION: Expectations, Experiences, Learnings from other Industries and Challenges ahead". During conference number of relevant presentations on topic of bank resolution and liquation were delivered from distinguished Keynote Speakers from organizations such as the Austrian Financial Market Authority, IMF, EBA and EIOPA and from representatives of European Deposit Insurance Agencies represented in EFDI.