At the invitation of the Director of the Albanian Deposit Insurance Agency, Mr. Genc Mamani, Managing Director Ms. Violeta Arifi – Krasniqi represented DIFK at the 5th EFDI Balkans Region Meeting. The meeting organized by the Albanian Deposit Insurance Agency, was held in Gjirokastra, from June 11 – 13, 2017. This meeting follows an ongoing tradition of meetings between deposit insurance authorities of Albania, represented by Mr. Genci Mamani, General Director; Bosnia and Herzegovina, represented by Mr. Josip Nevjestić, General Director; Croatia, represented by Ms. Marija Hrebac, General Director; Macedonia, represented by Mr. Goran Ancheski, General Director; Montenegro, represented by Mr. Predrag Marković, General Director; and Serbia, represented by Mr. Srdjan Mihajlović and Mr. Vladimir Medan, Chairman and Member of Board of Directors respectively, with the aim to discuss and share experiences and knowledge.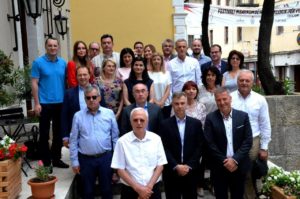 Challenges, prospects, issues of mutual interest, etc., were some of the issues that the executive directors discussed during the meeting, where the highlights of the discussion included the latest developments in each jurisdiction, compensation cases, dialogue on financial stability within their respective security networks, role of deposit insurers in the context of extraordinary intervention initiatives and relationships with supervisory authorities in this regard.
The Vice-Chairman of EFDI and CEO of Deposit Protection of Swiss Banks and Securities Dealers (esisuisse), Mr. Patrick Loeb was also in attendance, who presented to the participants the recent amendments to the EFDI Statute and changes introduced to the organizational structure of EFDI, as well as future projects aiming to strengthen the organization and its membership.  In addition, Director General of the Hellenic Deposit and Investment Guarantee Fund (TEKE), Ms. Georgia Karageorgi, Managing Director of the Deposit Insurance Fund of Kosovo (DIFK), Ms. Violeta Arifi-Krasniqi, and Bulgarian Deposit Insurance Fund (BDIF) Board Member, Mr. Bisser Manolov, also attended the meeting at the invitation of the Albanian Deposit Insurance Agency.
Managing Director, Ms. Violeta Arifi-Krasniqi introduced the Deposit Insurance Scheme of Kosovo and the initiative to advance the collaborative framework with the Central Bank of the Republic of Kosovo.